We Ship Internationally.
ZOL SMOKER
Zol Smokers, because when people Zol! The Zol Smoker is built for home and small enterprises. At 350kgs it is not a hardware store toy but rather a serious cooking machine. A 1000mm x 750mm cooking tube offers a massive cooking area with enough air volume to get a professional Texan style smoked produce.
Build Process
We process our best quality 4.5mm mild steel laser cutting, bending and rolling into our various needed components. A pre assembly is done on the tube and fire box. this whole assembly is then heated to over 350 degrees and cooled slowly to anneal the material. This releases any stress in the material. We then continue with manufacturing doors and the rest of the components are assembled onto the Smoker. At this point all that welding has added much more stress into the Smoker and it once again gets the 350 degree Annealing. Hold welds are all cut and polished. We then give her two coats of heat resistant black good to 1200 degrees and and bake it on at about 150-200 degrees for the day. Then She is good to go for years of smoky goodness.
Features
4.5mm Mild Steel construction

Painted heat resistant black

Stainless Steel finishes

Removable ash tray

+- 350Kgs

Stainless bar grid

Heavy duty fire grids in fire box
900 x 750 cooking area
Can add extra Grid to double volume
Dimensions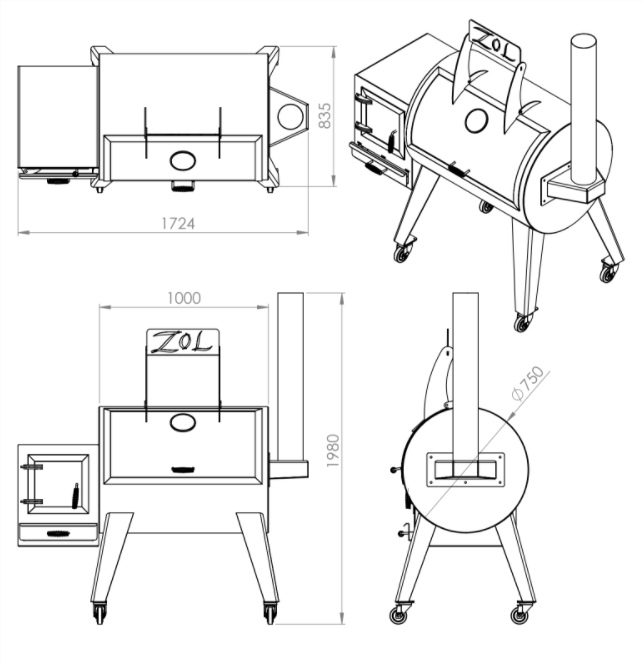 INDUSTRIAL SMOKERS
For more information about our custom built smokers for industrial and commercial applications. Please feel free to contact us to discuss your needs in more detail.
Features
6mm Mild Steel construction

Painted heat resistant black

Stainless Steel finishes

Removable ash tray

400Kgs +

Stainless bar grid

Heavy duty fire grids in fire box
You choose cooking area
Can add extra Grid to double volume